What actually is a "slipped disc"?
How do I know if my dog has a slipped disc?
Which breeds are particularly at risk?
What is the best treatment for my dog?
What does treatment involve?
What if my dog is paralysed?
Will my dog walk again?
Webinar Details

Presenter: Professor Simon Platt BVM&S DipACVIM(Neurology) DipECVN MRCVS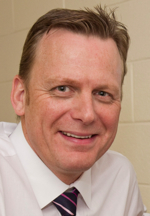 Professor Platt qualified from the University of Edinburgh in 1992. After a spell in the United States, he became head of the neurology unit at the Animal Health Trust in Newmarket where he stayed until 2007. He then moved back to the University of Georgia as associate professor and later a full Professor of Neurology and Neurosurgery. Simon is a Diplomate of the American College of Veterinary Internal Medicine (ACVIM) in Neurology and of the European College of Veterinary Neurology (ECVN) as well as being a RCVS recognised specialist in Veterinary Neurology. Simon is currently the ACVIM Neurology Specialty President and has co-edited  two textbooks on Canine and Feline Neurology.
This webinar has now taken place. Please click here for more information